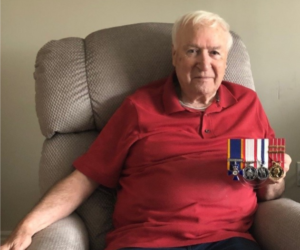 It's natural for people to reflect upon their lives as they age – experiences, accomplishments, memories. The hope is, that we look back at our lives with a sense of pride and fulfillment.
Hailing from Cape Breton, Nova Scotia, John has lived a life that anyone would be proud of. Now 85 years of age, residing in an Ontario retirement community, John continues to live his life to the fullest.
John has fond memories of his childhood on the east coast of Canada, particularly those of grade school, where he developed a love of reading. At the age of 14, John's family relocated to Montreal where he would later purchase his first home, meet his wife, and begin his career in publishing at the Canadian Business Magazine. In 1977, John accepted a job offer from the Financial Post in Toronto, continuing his journey west.
A few years into his tenure at the Post, John was approached by Hume Publishing. The company offered John the lead on a newsletter called The Money Letter, hoping that his expertise would improve circulation of the publication. John accepted the offer and remained in his post for the next six years. When John began, the publication had only 5,000 readers. By the time he left, readership had increased to 85,000.
But this is only part of his amazing story. Alongside his publishing career, John served as a reserve in the Canadian military – 25 years in Montreal and 11 in Toronto. As a member of the Royal Canadian Corps of Signals, a component of the Canadian Armed Forces' Communications and Electronics Branch, John was uniformed as a member of the Canadian Army.
By the time he reached retirement, John carried title of Chief Warrant Officer (CWO), the most senior non-commissioned member rank in the Canadian Army. He also carried the illustrious title of Regiment Sergeant Major (RSM) – only one CWO holds the appointment of RSM in a regiment or battalion, making him the most senior warrant officer.
For his service, John was honoured as a Member of Military Merit. Created in 1972, the order was established to recognize members of the Canadian Forces who have demonstrated dedication and devotion beyond the call of duty, achieving exceptional military service. It is the second highest Order administered by the Governor General on behalf of the Canadian monarch.
When asked about his biggest accomplishment, John sums it up well, but shares the credit, "I am truly amazed, by the amount of things I was able to do within my lifetime. During my careers, I was supported by my wife, Eunice, to whom I was married for 50 years. I lost her to cancer 13 years ago and miss her terribly."
Now well into his retirement, John continues to build on his many experiences and accomplishments. Still an avid reader, John also enjoys spending time in the community and keeping busy with friends and family, making new memories at the retirement community he is proud to call home.