CEO Blog: Gaining Momentum with the Canadian Alliance of Senior Living
March 2, 2017
I recently had the pleasure of meeting with my CEO counterparts from our sister Associations across Canada, along with their Board Chairs:
BC Senior Living Association (BCSLA)
Alberta Seniors Communities & Housing Association (ASCHA)
Regroupement Québécois des Résidences Pour Aînes (RQRA)
Representative from Eastern Canada retirement living
We spent a day and a half together discussing what we had in common and how we could collaborate to boost our individual efforts in each province while raising the profile for senior living nationally. We walked away with three key areas of opportunity where we can combine our efforts to better serve retirement home operators across the county; expanding the CORE data base, creating a comprehensive research and news repository, and developing national standards.
Expanding CORE data base
The CORE data base is an ORCA initiative, celebrating its second anniversary this year.  The data base collects information on sales and marketing metrics, occupancy rates and annual financial data for the sector in Ontario – making it a valuable tool for operators, developers, investors, government, stakeholders and the general public. Our first task as an alliance will be to expand CORE to a national platform. What an exciting step forward for building transparency around the senior living sector in Canada!
Creating a comprehensive research and news repository
In April, ASCHA is set to launch a new repository of industry research, sector news and association projects for their members in Alberta. This comprehensive library, named FRANCIS (Facts/Resources/ Analytics/Numbers/Communications/Information/Statistics), will have the ability to support research and lobby efforts in each province. Following a successful launch this year in Alberta, we agreed that each association would contribute to this exciting new repository. Sharing resources is an important step forward to continue raising awareness for our sector.
Setting national standards
Finally, we agreed to catalogue and compare our provincial regulations. This will help us in setting national standards, as well as provide information to governments at all levels as they consider how to meet the growing needs of an aging population.
Frederic Soucy, Executive Vice President, Cogir and Chair of RQRA summarized best what we were all feeling:
"I am amazed that we share the same challenges in each province and that we have so much in common including our commitment to serve the seniors who live in our buildings."
We were only together one and a half days – imagine what we will achieve together as our alliance strengthens and grows in years to come!
CEO Blog: Ottawa ORCA Members And Algonquin College Put The Focus On Customer-Centric Seniors Living
October 31, 2016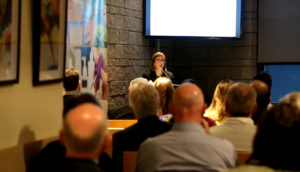 "The reason for our success is no secret. It comes down to one single principle that transcends time and geography, religion and culture. It's the Golden Rule – the simple idea that if you treat people well, the way you would like to be treated, they will do the same." – Isadore Sharp, Four Seasons Hotels Founder and Chairman.
I've always loved these simple but powerful words Canada's king of high-end hospitality used to sum up the success of his Four Seasons chain of hotels. Focusing on the customer experience is certainly not a novel concept – you'd be hard-pressed to find a successful service-based company in any industry who doesn't live and breathe this tried and true strategy. Leaders in the senior living sector and all the passionate, dedicated staff they employ know more than a thing or two about hospitality and the importance of creating environments that not only meet but far exceed their residents' expectations.
Last week I had the privilege of delivering a keynote address at Algonquin College for joint faculty and students across multiple disciplines in their hospitality and healthcare programs. I believe this was a first of its kind gathering, bringing together so many complimentary and critical programs that have the potential to benefit the sector in a way that takes the concept of customer-centricity to a whole new level.
With over 200 certificate and diploma programs on offer, Algonquin boasts more than 30,000 students and state of the art labs for hands-on teaching experiences. Meanwhile, our Ottawa ORCA members are a strong and well defined group who attended at Algonquin that evening to honour students in the Retirement Home Certificate program and to learn more about the many other programs on offer that support the skills development of future employees in our sector.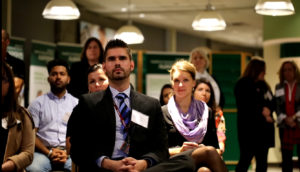 At this networking event I was delighted to learn about some of the fresh and exciting new ways the College's staff and students are engaging with our industry leaders to share knowledge and explore new and innovative customer-centric models for seniors living. It demonstrates the forward thinking of Algonquin College which recognizes the importance of developing formalized relationships with the sector to raise the profile and credibility for both its students and educational offerings.  It also highlights the desire of local operators to build their employee base by providing student placements – and ultimately, high quality jobs – to students who may never have considered working in the sector previously.
In my address, I highlighted the significance of a customer service focus across all aspects of service delivery to our residents. During the thoughtful conversations that followed I was impressed to see how faculty from Algonquin's different health care and hospitality programs recognized the importance of incorporating customer service awareness into their education to prepare students to effectively enter  our sector.
Congratulations to Phil Rossy (Coordinator/Professor, Retirement Communities Management Program) and Sandra McCormick (Chair, Wellness Research and Innovation) of Algonquin College for bringing together both hospitality and health care faculty to build formal relations with our sector. Truly a night to remember!
CEO Blog: Summer Conference highlights and Fall Road Shows on the horizon
October 11, 2016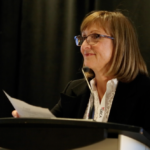 This past weekend I enjoyed reconnecting with my busy family over Thanksgiving, my favourite holiday of the year because we get to spend time together in a meaningful and unhurried manner. I think of seeing my friends and colleagues at ORCA events like Summer Conference in the same way. So many of the operators and vendors I've had the pleasure of getting to know over the years have become good friends as well as partners in business as we come together to enjoy good times, great food and the opportunity to learn from each other.
This year's Summer Conference at Blue Mountain in Collingwood was the embodiment of all of that, starting with a commercial members meeting that provided a forum for operators and vendors to better engage with one another constructively – the perfect way to kick the conference off by opening doors and reducing barriers to valuable conversations and connections.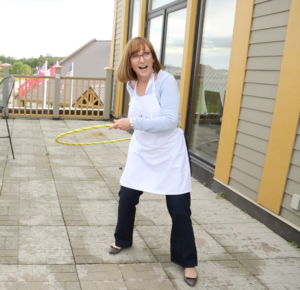 A little friendly competition and team building was also on offer for golfers and the aspiring chefs who attended the Chopped Kitchen event I participated in with ORCA Board Chair Sharon Henderson and our counterparts from BSCLA ( http://www.bcsla.ca/ ). Mike and Anna Olson (@olsen_anna & @chefmolson), our celebrity judges, added a level of professionalism to the event as they shared their culinary passion and a time-saving trick or two. Between the spirited cook-off and other activities, I got to learn a lot more about my team mates – and their hidden skills, which ranged from hula-hooping to stealthily sneaking online answers during the trivia questionnaire. For more highlights, check out our great Summer Conference video here – https://youtu.be/pW1FS6IcTqY .
Wrapping things up on an inspiring note, our Education Day provided an opportunity for members to learn about Canada's leadership role in ground-breaking dementia research and to better understand the reality of people living with dementia. My good friend Hillary Lochhead brought the topic to life by introducing the panel and sharing her personal experience with the subject. Diagnosed with early onset Alzheimer's a year ago at age 50, Hillary, along with Mary Beth Whighton (@MaryBethWighton) offered a very compelling lens to discussion on how this disease steals the lives of both those suffering from dementia and their loved ones as well.
In the afternoon session on cultural diversity, our members engaged in thoughtful dialogue with panelists from both Senior Pride and the 519 (@seniorpride & @519) about how seniors from the LGBGQ community fear discrimination from residents and staff alike for their sexual orientation. This is the first time I've heard our seniors housing leaders engage on this topic and I was interested to see light being shed on what must have been a hardship for many seniors living in retirement homes over the years.
With new memories made and many important conversations to be continued, another successful Summer Conference is now behind us. I hope you enjoyed a fabulous Thanksgiving and please stay tuned for my next blog as we look forward to Fall Road Shows!
2017 Spring Road Shows: Thank you!
May 26, 2017
The ORCA team would like to thank the over 400 attendees who joined us at this year's Spring Road Shows! The response has been overwhelmingly positive and we are thrilled at your commitment to begin the dementia inclusive journey.
Thank you to all of our amazing sponsors for helping to make each road show a success! These events would not be possible without your dedication to the sector.
We would like to extend an extra special thank you to Jackie Dusome, Vice President of Compliance at All Seniors Care, who accompanied us on all five stops to share her insights and experience. Thank you, Jackie!
Finally, thank you to our incredible speakers. From dedicated researchers to heroic dementia advocates, your knowledge and stories will leave a lasting impression. Your commitment to the battle against dementia stigma is inspirational and your hard work will be instrumental to the development of the dementia toolkit.
We look forward to embarking upon the dementia inclusive journey with you!
The ORCA Team
Q&A with Jackie Dusome and Laurie Johnston
Norman Hertzman and Darren Connolly from Rexall Health Solutions, our Presenting Sponsor
Moving presentations by ODAG representatives Mary Beth Wighton, Keith Barrett and Catherine Nanton
Season's Greetings!
December 14, 2016
Welcome to my first CEO video blog post. Watch to learn about one of my favourite Christmas memories as a retirement home operator:
Share your favourite holiday memories with us on Facebook and Twitter!
Ninety-six per cent (96%) of Canadians agree: there are social benefits for seniors living in a retirement home, ORCA survey finds
November 22, 2016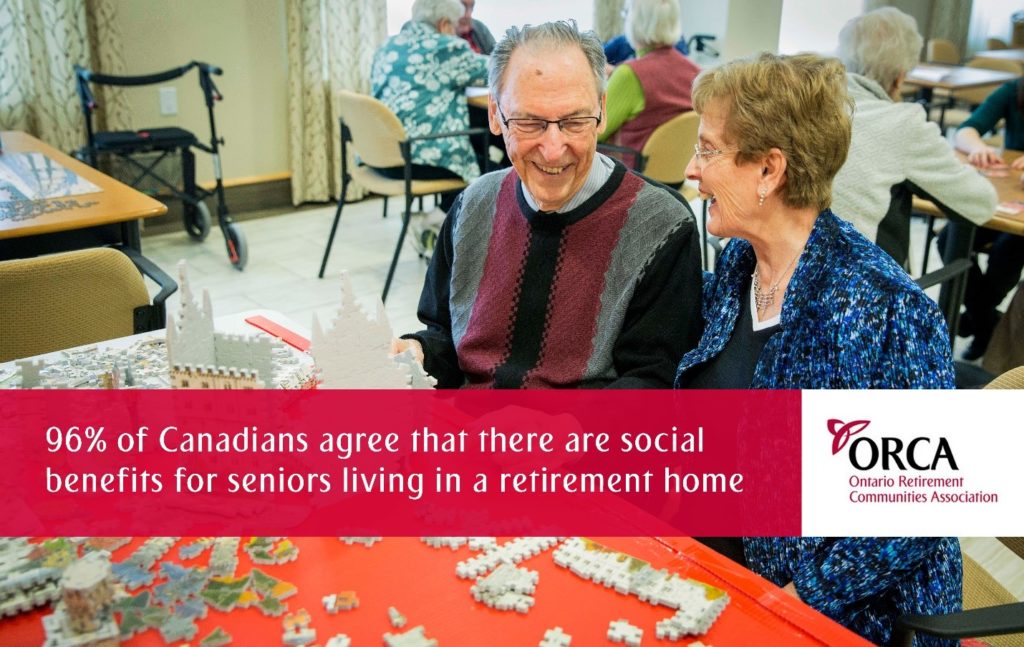 According to a recent ORCA survey conducted by Angus Reid, almost all Canadians (96%) agree that there are social benefits for seniors living in a retirement home. The survey also found that Canadians think social isolation is a key concern when it comes to our aging population.
What else do Canadians think?
Nearly nine in 10 Canadians do not want to be socially isolated in their later years.
76% of Canadians over the age of 55 worry about being a burden on their family if they can't look after themselves.
Three in four Canadians worry about someone they care about living alone as they grow older.
Almost all Canadians (94%) agree that families worry less if their loved one has supports to keep them safe and well
Almost all Canadians (97%) living in Ontario agree that support systems would ease their worrying.
Also, 93% of Canadians agree that social isolation is linked with higher health risks for seniors, including a higher likelihood of falls, four-to-five times greater risk of hospitalization, increased risk of developing mental health issues, and 60% increase in risk of dementia and cognitive decline.
The good news is that living in a retirement community can mitigate the risk factors of social isolation for you and your loved ones. ORCA member homes empower seniors to live socially-integrated lifestyles that protect against the advance of social, physical and cognitive decline.
When considering living in a retirement home, or if you're looking on behalf of a loved one, be sure to choose a licensed home that is an active ORCA member.
Survey Methodology: The survey was completed online (omnibus) through the Angus Reid Forum panel, with a sample size of 1,500 Canadians on Wednesday October 12, 2016. The estimated margin of error for the results is +/- 2.53%.
Waterside Retirement Lodge Heroines: Residents Blanket Wasaga Beach with Love
October 5, 2016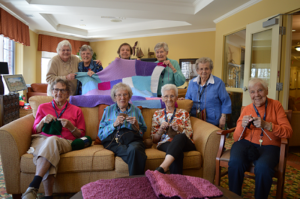 On Monday, October 3rd, as the sun was beginning to set over Wasaga Beach, some very special residents of Waterside Retirement Lodge loaded into a limo to attend an event in Barrie at a local restaurant. The event was a fundraising event to help raise funds for Team Bernie, a local resident of Tiny Township battling stage 4 colon cancer, to fix his deck that is dangerously in disrepair. At the end of the evening it was announced that approximately 80% of the funds required to repair the deck were raised.
The ladies attended the event not only to support the cause, but also to be honoured for their generous, heartfelt work contributions. For the last year, the ladies have been knitting blankets made with love for people receiving treatment for cancer, and may need some extra TLC.  They became involved in this blanket project through one of the Residents who live at Waterside that crochets blankets for premature babies, and she thought that others might like to get together to knit.  When the first blanket was completed, a kind-hearted Barrie resident, Frank Nelson, came on board to deliver the blankets to cancer patients in need of a warm hug when he himself goes in for chemo treatments.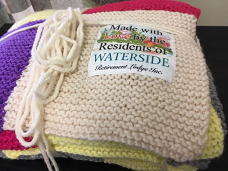 Frank's facebook page "Paying it Back" is so supportive of the ladies and their blankets that they have become local celebrities on his page and had many fans wanting to meet them and to celebrate their hard work at the fundraiser. The ladies have given out 11 blankets to date.  Of these 11 blankets, Frank has been given 7 to distribute, Bernie received one, one went to a Waterside volunteer's grandmother receiving treatment, and two others were given to two girls under the age of four who are receiving treatment.  Once the ladies have completed more blankets, Brooke, who has just begun kindergarten, will be delivering the blankets to other children in the community receiving treatment.
Other than a few start-up material costs, the blankets made with love are completely done on donations from the community. The labels that are affixed to each blanket have been created and donated by a local gentleman, and even the ladies' limo ride was donated by Atrium Executive Limo Services. Recreation Coordinator at Waterside Retirement Lodge, Christie Murchison, kindly donates her time to the cause by sewing blankets at home, but has a difficult time keeping up with the ladies. She now sews alongside the ladies and puts the finishing touches on the final product.
The work of the ladies is nowhere near complete. They are currently putting together blankets to enter into the Elmvale Fall Fair taking place Thanksgiving weekend to hopefully win a monetary prize to put towards more yarn, or to the Resident Fund at the lodge. The work of these residents is truly inspiring, and is a perfect example of the incredible work that can be done when retirement homes and local community members work together.  Keep up the good work!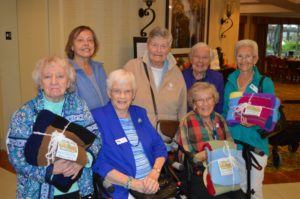 CEO Blog: Summer Conference Reflection
September 21, 2016
With this year's Summer Conference just around the corner, I find myself thinking back to my first time attending what has since become an important annual tradition for me and for so many others in our sector. And while it's hard to believe that 22 years have gone by since I first attended as a brand new ORCA member, the extraordinary pace of growth and transformation our sector has experienced in the last two decades makes the time that's gone by seem short.
Over the years I've had the pleasure of attending Summer Conference in many different roles and capacities, ranging from my start in the sector as a small owner-operator, to a regional director of operations for a national chain, to an industry consultant – and for the past five years, as ORCA's CEO. As my career and the sector itself have evolved, each year I've looked forward to this unique opportunity to spend time and build lasting relationships with so many passionate people from across the sector.
The first year I attended, I experienced the sense of community and camaraderie that would bring me back year after year. I recall how the commercial members, noting my "greenness", went out of their way to make me feel welcome and valued and the rest, as they say, "is history". To this day, our commercial members continue to demonstrate their commitment to the sector in many ways, including their membership and the sponsorship and attendance of the key events that make the conference a touchstone for innovation and collaboration. I'm certain that this year's conference will be no different.
This year's education day theme 'Our Aging Population: Dementia, Diversity and Cultural Change' explores some of the trends driving changes in senior living today, including the rise of residents living with dementia and the importance of recognizing the need to provide services that reflect, respect and celebrate the vast diversity of Canada's aging population. With our members' enthusiasm for the event, together we are reaching new heights both in member participation and through their generous financial support, some of the best programming we've offered to date. I will always have a special place in my heart for our commercial members as they are truly integral to our sector's success and the success of ORCA.
What are some of your favourite Summer Conference memories? Please share them with us, and join us this year in Blue Mountain as we create new memories to last a lifetime!
CEO Blog: A Warm Welcome!
August 11, 2016
A warm welcome to my new CEO Blog! I'm delighted to announce that this will become a regular feature on the ORCA website. This blog will be a space where I will provide insight into the challenges and opportunities facing our sector, share some of the innovative and meaningful work the association is doing, and generate some healthy discussion and debate on a number of topics relating to the evolution of seniors housing.
This year, I am celebrating my fifth year at ORCA. In honour of that, I figured I would spend my first blog post reflecting on five years of change within the association and the retirement homes sector. It is truly remarkable how much the sector has grown and how far we have come together!
In 2010, ORCA had 351 residence members. Today, we have over 580 operator members, boasting in size from 6 suites to over 300. We've been able to leverage this unprecedented growth of membership to open new doors, build new connections and explore broad-ranging initiatives. By representing over 90% of the sector, ORCA has become the respected voice for retirement communities in Ontario. Without the trust from members and the support of the hundreds of volunteers who make up our Board and committees, we would not be able to speak so confidently, and in so many places, on behalf of our sector.
Earning the support of the sector has required ORCA to evolve to keep up with the times and take risks when necessary. In fact, there are many times in its history that the association has had to take a leap of faith to achieve success. When the Retirement Homes Act came into effect in 2010, ORCA dropped the required accreditation for membership. When we wanted to provide more wide-ranging education support, we dropped the fee for our e-learning service and invested to build The Learning Centre for Senior Living. When we wanted to expand the possibilities for collaboration and thought leadership, we updated our vision, mission and strategic plan. And when we saw a gap in solid data for the seniors housing sector, we created CORE.
It's true that any one of these things alone would have been a positive game changer for the association. But together they represent a significant shift – one that has provided unprecedented support for members and new opportunities for the sector.
And where will the next five years take us? Though it is impossible to know for sure, I anticipate that we will embrace expanded opportunities to spark public conversation about seniors' options, invest in expert research, and work collaboratively with decision makers to meet the needs of our rapidly aging population – while always ensuring that seniors' choices and independence are respected.
What kind of opportunities do you think exist for ORCA and the retirement homes sector in the next five years? How can we innovate – and perhaps take a new leap of faith? I invite you to weigh in on our Facebook page, Linked In page or tweet us at @orcahomes.
ORCA's Videos Now Available en Francais!
July 12, 2016
ORCA's video sharing information about living in a retirement community in Ontario is now available with French subtitles! We hope this will help provide an understanding of retirement living to more seniors and their families.