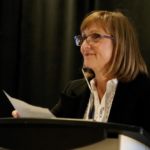 This past weekend I enjoyed reconnecting with my busy family over Thanksgiving, my favourite holiday of the year because we get to spend time together in a meaningful and unhurried manner. I think of seeing my friends and colleagues at ORCA events like Summer Conference in the same way. So many of the operators and vendors I've had the pleasure of getting to know over the years have become good friends as well as partners in business as we come together to enjoy good times, great food and the opportunity to learn from each other.
This year's Summer Conference at Blue Mountain in Collingwood was the embodiment of all of that, starting with a commercial members meeting that provided a forum for operators and vendors to better engage with one another constructively – the perfect way to kick the conference off by opening doors and reducing barriers to valuable conversations and connections.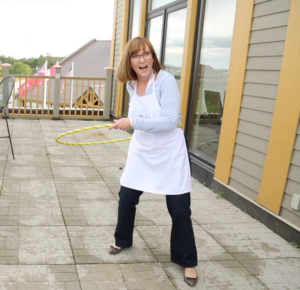 A little friendly competition and team building was also on offer for golfers and the aspiring chefs who attended the Chopped Kitchen event I participated in with ORCA Board Chair Sharon Henderson and our counterparts from BSCLA ( http://www.bcsla.ca/ ). Mike and Anna Olson (@olsen_anna & @chefmolson), our celebrity judges, added a level of professionalism to the event as they shared their culinary passion and a time-saving trick or two. Between the spirited cook-off and other activities, I got to learn a lot more about my team mates – and their hidden skills, which ranged from hula-hooping to stealthily sneaking online answers during the trivia questionnaire. For more highlights, check out our great Summer Conference video here – https://youtu.be/pW1FS6IcTqY .
Wrapping things up on an inspiring note, our Education Day provided an opportunity for members to learn about Canada's leadership role in ground-breaking dementia research and to better understand the reality of people living with dementia. My good friend Hillary Lochhead brought the topic to life by introducing the panel and sharing her personal experience with the subject. Diagnosed with early onset Alzheimer's a year ago at age 50, Hillary, along with Mary Beth Whighton (@MaryBethWighton) offered a very compelling lens to discussion on how this disease steals the lives of both those suffering from dementia and their loved ones as well.
In the afternoon session on cultural diversity, our members engaged in thoughtful dialogue with panelists from both Senior Pride and the 519 (@seniorpride & @519) about how seniors from the LGBGQ community fear discrimination from residents and staff alike for their sexual orientation. This is the first time I've heard our seniors housing leaders engage on this topic and I was interested to see light being shed on what must have been a hardship for many seniors living in retirement homes over the years.
With new memories made and many important conversations to be continued, another successful Summer Conference is now behind us. I hope you enjoyed a fabulous Thanksgiving and please stay tuned for my next blog as we look forward to Fall Road Shows!