"The reason for our success is no secret. It comes down to one single principle that transcends time and geography, religion and culture. It's the Golden Rule – the simple idea that if you treat people well, the way you would like to be treated, they will do the same." – Isadore Sharp, Four Seasons Hotels Founder and Chairman.
I've always loved these simple but powerful words Canada's king of high-end hospitality used to sum up the success of his Four Seasons chain of hotels. Focusing on the customer experience is certainly not a novel concept – you'd be hard-pressed to find a successful service-based company in any industry who doesn't live and breathe this tried and true strategy. Leaders in the senior living sector and all the passionate, dedicated staff they employ know more than a thing or two about hospitality and the importance of creating environments that not only meet but far exceed their residents' expectations.
Last week I had the privilege of delivering a keynote address at Algonquin College for joint faculty and students across multiple disciplines in their hospitality and healthcare programs. I believe this was a first of its kind gathering, bringing together so many complimentary and critical programs that have the potential to benefit the sector in a way that takes the concept of customer-centricity to a whole new level.
With over 200 certificate and diploma programs on offer, Algonquin boasts more than 30,000 students and state of the art labs for hands-on teaching experiences. Meanwhile, our Ottawa ORCA members are a strong and well defined group who attended at Algonquin that evening to honour students in the Retirement Home Certificate program and to learn more about the many other programs on offer that support the skills development of future employees in our sector.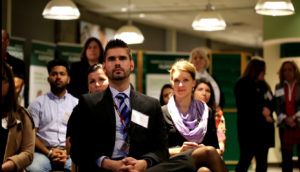 At this networking event I was delighted to learn about some of the fresh and exciting new ways the College's staff and students are engaging with our industry leaders to share knowledge and explore new and innovative customer-centric models for seniors living. It demonstrates the forward thinking of Algonquin College which recognizes the importance of developing formalized relationships with the sector to raise the profile and credibility for both its students and educational offerings.  It also highlights the desire of local operators to build their employee base by providing student placements – and ultimately, high quality jobs – to students who may never have considered working in the sector previously.
In my address, I highlighted the significance of a customer service focus across all aspects of service delivery to our residents. During the thoughtful conversations that followed I was impressed to see how faculty from Algonquin's different health care and hospitality programs recognized the importance of incorporating customer service awareness into their education to prepare students to effectively enter  our sector.
Congratulations to Phil Rossy (Coordinator/Professor, Retirement Communities Management Program) and Sandra McCormick (Chair, Wellness Research and Innovation) of Algonquin College for bringing together both hospitality and health care faculty to build formal relations with our sector. Truly a night to remember!