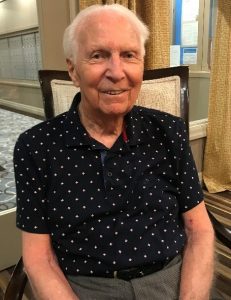 Dennis Champ believes that everyone needs to find purpose in life, especially in their retirement years. For him, that purpose lies in providing the resident perspective on how to improve the aging experience through innovations targeting seniors.
Growing up in Toronto with his mother and adopted sister, Dennis filled his days helping run the family barbershop started by his late father. Eventually, he set off to university to pursue his own dreams, where he received a degree in Chemical Engineering from the University of Toronto.
Following graduation, Dennis went to work for Union Carbide, a multi-national chemical, and plastic company, taking on everything from sales and marketing, to plant management, and eventually working in the head office. After 35 years at Union Carbide, Dennis again set out on his own to start a consulting business, working with startups and small businesses.
Upon retirement, Dennis and his wife Barbara spent years traveling to many countries together: Ireland, South Africa, and Greece, to name a few. When they were home in Ontario, Dennis and Barbara enjoyed spending time with their two children and five grandchildren. When Barbara passed away in 2010, Dennis decided to make a lifestyle change.
Dennis sold the family home and moved into a condo in Aurora. Once he was living on his own, it wasn't long before he became dissatisfied with the medical support he received at home. So, Dennis and his family agreed to start searching for the perfect retirement residence.
"I walked through the doors and had a really nice tour with my son and daughter," says Dennis. "Everything looked great – from the amenities and staff to the dining room and suites, it was all under one roof." Dennis immediately liked what he saw and moved in right away.
After a year of living in his new home, Dennis was approached about taking on a national 'Resident Innovation Ambassador' role for the company that owns his retirement residence. His professional background, undeniable charisma and positive attitude made him the perfect fit for the job, and he gladly accepted.
"The ambassador role makes a huge difference for me," says Dennis. "It's nice having something to look forward to, where you're contributing to something purposeful. I provide my resident perspective when the company is thinking about implementing an innovation or new program."
Dennis lives a life of purpose; from his family and career to his retirement, every aspect of life is done with intention. He finds fulfillment through his Resident Innovation Ambassador role and enjoys what he does "immensely." Dennis also enjoys the traveling aspect of his role, sharing his resident experience and perspective across the country.
Recently, Dennis took part in an intergenerational think tank in Waterloo, Ontario. "We [retirement residences] have a hiring problem," says Dennis. "That's why students and seniors, including myself, have come together to think of ways to break down barriers between young people and their thoughts about working with older people." Dennis has been a part of many other important projects and initiatives for the betterment of senior living, but his job is not done yet.
Right now, Dennis is working on ways to help residents in his community find their own purpose, whether it be through volunteering, joining a club, or finding a new hobby. "People need to have a sense of accomplishment, and some might find that difficult when moving into a retirement residence, where most things are taken care of for you, from the cooking to the cleaning," says Dennis. "Everyone deserves to have the opportunity to do something purposeful." From his Resident Innovation Ambassador role to his five-string banjo lessons, Dennis lives this philosophy whole-heartedly.
He is also working on ways for new residents to quickly feel more comfortable. "Some individuals that decide to move into a retirement residence have an interesting period dealing with the new environment they are living in," says Dennis. "I want them to be able to have the support they need to feel at home right away."
Dennis feels at home in his community and hopes others feel the same. "I'm much happier here than I was in my condo," says Dennis. "For anyone thinking about living in a retirement residence, you will have a great social life here, one that is very difficult to have in a traditional single-family home, especially if you live alone."
For Dennis, life in a retirement residence brings many benefits: social interaction, great dining and amenities, assistance when needed, and most importantly, purpose.